Hello people! Welcome to another GIF-y Love post!
Basically, GIF-y Love is a weekly meme/tag hosted by me and Nehal. To know more click here.
Here are the rules-
Every Wednesday, a prompt would be given by us on our blogs.
You'd have to find your favorite GIF related to that prompt and post it any day of the week you want along with your most recent emoji on your blog under the tag name- GIF-y Love. We too would share our weird favorite GIFs
The next week, we'll give a shoutout to our favorite GIF among all of yours.
(The results and next week's prompt will be posted on Nehal's blog)
That's it. Make sure you laugh a lot in the process, too!
Ahh, our last weeks GIFs were oh-so-hilarious! Thank you so much, we loved all your GIFs!
And now the time for the one I love with last week's prompt-Studies!
NOW THE PROMPT FOR THIS WEEK. AND THE PROMPT IS-
BLOGGING!
That was all I ha-
Oops, I forgot to reveal my own favourite GIF😂
Well, here it is!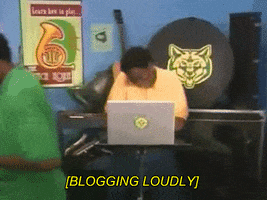 THAT WAS ALL WE HAD FOR YOU! WE AWAIT YOUR WEIRD GIFS/ PARTICIPATION!