Hey lah! Basically I'm participating in a read-a-thon, to know more go here, and I just got done with the eighth book from my TBR of thirteen! The book was The Perks Of Being A Wallflower by Stephen Chbosky which I picked for the prompt Wildest Dreams: Read a book that inspired a movie!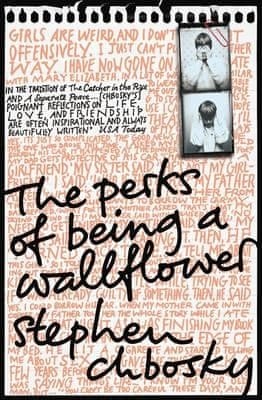 Title- The Perks Of Being A Wallflower
Author- Stephen Chbosky
Blurb(Goodreads)-
This is the story of what it's like to grow up in high school. More intimate than a diary, Charlie's letters are singular and unique, hilarious and devastating. We may not know where he lives. We may not know to whom he is writing. All we know is the world he shares. Caught between trying to live his life and trying to run from it puts him on a strange course through uncharted territory. The world of first dates and mixed tapes, family dramas and new friends. The world of drugs, and The Rocky Horror Picture Show, when all one requires is that the perfect song on that perfect drive to feel infinite.
Rating-
I loved this book.
The letters were random, hilarious, innocent, insightful, curious and at times, devastatingly beautiful. It's like you have to know what happens, you need to hear what Charlie has to say, you need to know what happens to his sister, or Patrick or anyone for that matter.
I really loved Charlie. I don't think I am in any way like Charlie, but still his narration felt much too relatable. I loved Sam, how kind and thoughtful she was, I liked Patrick because he was a hilarious guy, I loved everyone in the book.
Another thing I loved was that you never got to know who those letters are addressed to, and that forces you to think about the book. Another aspect I loved was that we never got to know who Charlie is, where he lives, what his last name is, for all I know, Charlie is not even his name, but we got to know him, I don't know if I made sense.
I loved how this book hit me hard all the while maintaining a kind of a light mood!
Ahh, if you're looking for a book that sucks you in for a read in one sitting, I really think this is the one for you!
Have you read the book? Did you like it? What were your thoughts? Let me know!